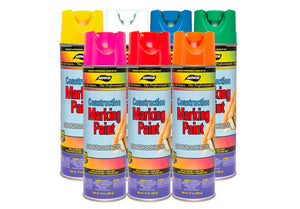 Aervoe Marker Spray Paint 556ml 12pk
400-3826
Regular price
$161.03
excluding GST
including GST
Aervoe Marker Spray Paint

Extra Large Aerosol 556ml
Lasts up to 3 months on the ground*
Cans are guaranteed to empty - with no clogging!
NO XYLENE, TOLUENE, and ETHYL BENZENE
The flagship of the marking paint line offering a high-quality paint that is priced competitively to meet a variety of upside-down marking applications, while providing good colour visibility and durability.
*Mark lasts up to three months - depending on traffic and exposure.
This quality marking paint is packaged in a can that may only be operated in an upside down position. It is formulated to meet a variety of marking applications while still providing good initial colour visibility, good colour retention, and adhesion.
Designed to adhere to most surfaces, including pavement, gravel, and soil. It can be used for marking at construction sites, locator and utility identification, landscaping, or other general marking requirements. It is not recommended for use on short cut grass such as golf course greens.
---
More from this collection