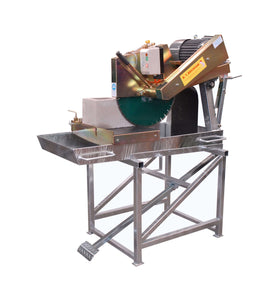 BT Engineering Blocksaw- 20" Electric
Please contact us to learn more about this product.
BT Engineering Blocksaw- 20" Electric BLSAWSP
The BT Engineering electric powered Block Saw is developed, engineered and manufactured to be the most rugged, hardworking and reliable Block Saw in the world.
The 20″ diamond blade with 8″ cutting clearance allows you to breeze through concrete blocks and other masonry products in one clean cut.

The single or three phase electric motor provides the grunt you need in any location, even the most demanding work sites.

The enlarged sliding carriage provides a completely stable platform for large scale blocks, pavers or bricks to rest on while being cut.

Eliminate dust with the adjustable water supply valve.

The removable mitre guide allows you to consistently cut concrete blocks, pavers and bricks to any length or shape you require.

The detachable base provides neat transportation options on any ute, truck or van.

The galvanized stand and base combined with the zinc electroplated saw arm ensures the BT Block Saw repels rust and corrosion throughout many years of operation.
Single phase is best for concrete blocks and other similar material.
Three phase best for concrete blocks and harder materials such as stone, rock etc.
Specifications:
Choice of 4kw 3 phase electric motor or 2.2kw 240 volt single phase electric motor

Suits 20" blade

Depth of cut: 200mm

Length of cut: 540mm
Dimensions
Length: 1300mm

Width: 700mm

Height: 1550mm

Weight: 143kg
Carriage Dimensions
Length: 360mm

Width: 570mm
Blade not included.
12 Month Warranty. Made in Australia
 NOTE: EXTRA FREIGHT MAY OCCUR ON LARGER ITEMS TO SOME PARTS OF THE COUNTRY