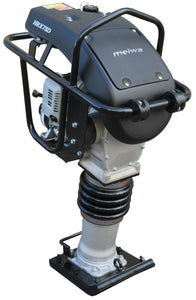 RTX60D - 63kg MEIWA Trench Rammer
Regular price
$5,199.00
excluding GST
including GST
MADE IN JAPAN
RTX60D
The Trench Rammer is an important member of the light compaction tool family. These are used to apply a balanced repetitive impact force to consolidate material, breaking bonds between soil particles and displaces the water and air trapped between soil layers. The MEIWA Rammer is designed and engineered to meet the perfect balance between weight, centre of gravity and impact cycle, this makes it the most effective rammer in its market at 'deep compaction'. Sites with confined spaces particularly benefit from rammers on a variety of soil types.
Prominent features of the new RTX models
Air Filtration: An extra larger three way air filter system (not on other makes). A long term benefit for these machines in demanding dusty conditions
Carburation: The preferred float bowl style carburettor, which performs consistently with vibration.
Operation: Contractors are loving the smooth operation of these machines, reducing operator fatigue.
Balance - Low centre of gravity for stability and ease of operation, while achieving a higher compaction rate
Transport - Rollers are mounted to the handle for easy and convenient transportation.
Specifications:
Robin EH09F
Weight 63kg.
Foot Size 330 x 270mm..
Impact Cycle 10~10.8Hz
2.5L Fuel Tank.
Made in Japan.
---
More from this collection