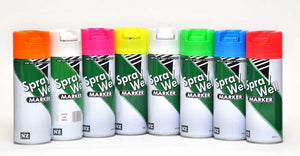 SPARYWELL Marker Spray Paint
400-3808
Regular price
$143.38
excluding GST
including GST
SPRAYWELL Upside-Down Marker Spray Paint

SprayWell's Upside Down Markers are designed to work when held and sprayed pointing downward e.g. for making a mark on the ground.
SprayWell Upside Down Marker is semi permanent and highly visible.
Fast-drying
Suitable for use on a variety of surfaces including; logs and timber (dry or damp), grass, gravel, cement, steel drums, roads, plastic wrap and more.
Toluene-free formula

NOZZLES:

SprayWell Upside Down cans are only available with one nozzle designed to be sprayed upside down. The nozzle leaves a standard round mark.

Cans contain 400ml (12 Pk)

---
More from this collection