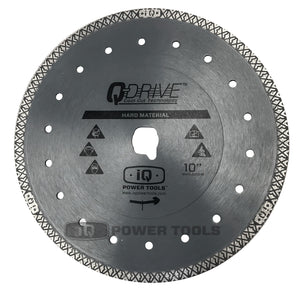 250mm IQ Power Tile Blade - Hard
100-12411
Regular price
$446.78
excluding GST
including GST
250mm IQ Power Tile Blade - Hard
The iQTS244 Q Drive 250mm Hard Material Blade for Hard Materials with its proprietary composition of diamond concentration, metal type and flange thickness is designed to reduce movement and vibration while cutting cool is recommended when cutting hard materials such as granite or hard porcelain. 
Features:
Engineered to cut hard tiles dry

Blade stays cool to touch while cutting

No warping or wandering

Precision cuts that match quality wet blades

Can be used on other non iQ tile saws.
Note: designed for the iQTS244 Dry Tile Saw.
---
More from this collection