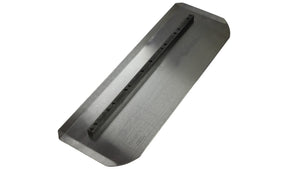 Allen USA Combination Blades 46"
Regular price
$266.83
excluding GST
including GST
Allen USA Combination Blades 46"
46" Combo Trowel Blades - Set of 4.  8" x 18" Silver Series (203mm x 457mm)
Also fits - Bartell, Belle, Edco, ESI, Essick Kelley, Marshalltown, Masalta, MBW, Rhin-O-Tuff, Stow, Stone/Toro, Wacker, MultiQuip/Whiteman
Allen Engineering offers a complete line of finish blades, combination blades and clip-on float shoes for your walk-behind or ride-on power trowels. We use high quality steel or composite plastic with six high strength rivets to maximise blade life. For the flattest floors, trust only Allen Finishing Blades. And, Allen Blades fit most other brands of walkers and riders.
---
More from this collection