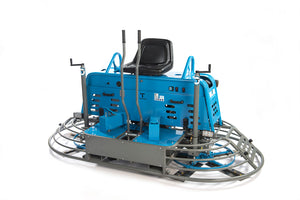 Beton Ride-On Trowel BT120 35hp 120cm
Please contact us to learn more about this product.
Beton Trowel BT120 Ride-on Power Trowel
A perfectly balanced, powerful floating and finishing machine. Built strong but with simple mechanical construction to ensuring long, reliable service life with easy maintenance.
Specs:
Engine: 35HP Vanguard Twin Cylinder Air cooled petrol engine
Weight (kg): 490
Blades: 2 x 5 Blade 46" spiders (24 month Warranty)
RPM: 0-160
Heavy Duty reduction gearboxes. (24 month Warranty)
Size (cm) : 254 X 127
Manual Steering
Other features:
Driven by BLM type heavy duty clutch with 3 drive belts. Converting drive through universal drive couplings to Gearboxes
Ergonomic manual steering
4 x Running Lights as standard
Seat adjuster standard
Water spray system
Drink holder
Engine hour meter
5 Blade spider assembly - for stability and fast closing of floor on final finishing. Spider machining is precision tolerance fit for the trowel arms therefore minimizing wear and ensuring long service life
Fork pockets for easy loading
Grease points at spider to ensure continual free movement of blade pitch.
Highly effective float pan machine with plenty power for this operation.
Good all round visibility of blades and concrete for the operator
Four x crane sling lifting points plus Fork Lift Slots
Optional 2 wheel transporter for site use and blade changing.
Blade Types: Finish, Combination, wide finish.