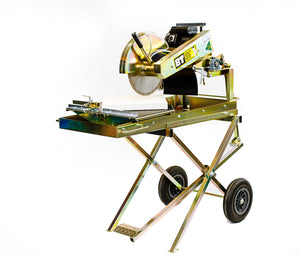 BT Engineering PavingSaw - 14" Electric
Please contact us to learn more about this product.
BT Engineering PavingSaw - 14" Electric
Developed, engineered and fine-tuned in house for over 30 years, the BT Engineering 14″ electric powered Paver Saw is the world's leading saw for landscaping, paving, bricklaying and masonry trades who cut large pavers as well as bricks.
The extra long base allows you to cut 600mm x 600mm (24″ x 24″) pavers in one clean cut.

The enlarged sliding carriage provides a completely stable platform for large scale pavers to rest on while being cut.

The 2hp custom designed motor provides the power you need to efficiently cut pavers, bricks and other oversized masonry products all day.

Eliminate dust with the custom designed 3-way independent water control button, providing water flow in the off, on or hands-free constant flow mode.

The removable mitre guide allows you to consistently cut pavers and bricks to any length or shape you require.

The lightweight, detachable base provides easy maneuverability for one man and allows the BT Paver Saw to neatly fit on any ute, truck or van.

Zinc electroplating ensures the BT Paver Saw repels rust and corrosion throughout many years of operation.

Puncture proof tyres mean the BT Paver Saw can be taken on even the most demanding work sites.
Specifications:
1800 watt electric motor

Suits 14″ blade

Depth of cut: 125mm

Length of cut: 600mm (cut square or diagonally 600 x 600 x 50mm)
Dimensions
Length: 1260mm

Width: 660mm

Height: 1400mm

Weight: 95kg
Carriage Dimensions
Length: 465mm

Width: 620mm
Blade not included.
12 Month Warranty. Made in Australia
 NOTE: EXTRA FREIGHT MAY OCCUR ON LARGER ITEMS TO SOME PARTS OF THE COUNTRY