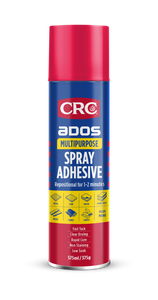 CRC Ados F2 Contact Adhesive 575ml Spray
900-9049
Regular price
$25.85
excluding GST
including GST
CRC Ados F2 Contact Adhesive 575ml Spray
ADOS F2 Multipurpose Contact Adhesive is a high-performance general-purpose contact adhesive. It is water-resistant and flexible and its high bond strength makes it ideal for a wide range of uses.
It is easily applied, highly versatile, durable and bonds instantly to most substrates.
Features & Benefits
Multipurpose
High bond strength will bond most materials and substrates
Water resistant / flexible
Uses
Exceptional performance for making bonds with laminated plastics, hardboard, sheet metals, foam plastics, some rubbers, felts, acoustic tiles, leather, most building materials, etc.
---
More from this collection