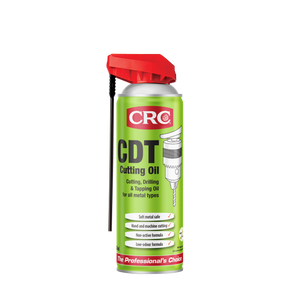 CRC CDT Cutting Oil
900-9026
Regular price
$29.84
excluding GST
including GST
CRC CDT Cutting Oil
CRC CDT Cutting compounds are superior neat cutting, drilling tapping, and reaming lubricants, formulated for hand and machine cutting on all types of metal. They significantly reduce friction and wear,  increase cutting speeds, protect and extend tool life, and ensure consistent, high quality surface finish.
CRC CDT Cutting compounds contain extreme pressure additives and create a strong film with increased 'cling' for use on vertical surfaces, allowing for work at any angle.
CRC CDT Cutting compounds leave an anti-corrosive residue and are safe to use on soft metals such as brass, copper, and aluminium.
Features & Benefits
Contains high performance, extreme pressure additives
Provides very high resistance to temperature, pressure and wear
Enhances tool, mandrel and die life
Increases cutting performance
Cuts downtime
Provides a homogenous and tenacious lubricating film
Consistent, high quality surface finish
Flexibility
Freedom from scoring due to high welding resistance
Reduction of scrap
Suitable for hand and machine cutting
MPI Approved C12 (all animal product except dairy)
400ml Aerosol Includes Permastraw™ Dual-Action Spray System 
Uses
Metal cutting operations
Cutting
Drilling
Tapping
Reaming
General workshop applications
Also ideal for tube drawing and extruding, cold forming and deep drawing of difficult steels such as stainless steel, high nickel alloys, chrome alloys, nimonics and aluminium.
---
More from this collection