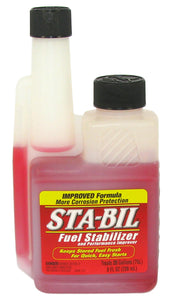 Fuel Stabilizer 236ml
900-9183
Regular price
$22.43
excluding GST
including GST
Fuel Stabilizer 236ml
Treats 76 litres of fuel.
Prevents stale fuel.
Prevents separation of fuel and oil in two-stroke mixture.
Keeps fuel fresh for long term storage, up to 24 months.
Removes water from fuel to help prevent fuel separation.
Eliminates the need to drain fuel prior to storage.
Ensures quick, easy starts by preventing gum and varnish build up.
---
More from this collection