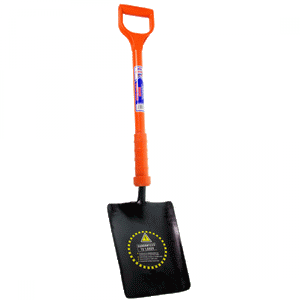 Insulated Square Mouth Shovel
400-3002
Regular price
$218.11
excluding GST
including GST
Insulated Contractors Spade
An insulated taper mouth shovel for all types of general digging and shovelling applications.
These insulated tools conform to BS8020:2002 for working on or near live cable. They are individually tested to 10 thousand volts and guaranteed to 1 thousand volts.
All Faithfull insulated shovels and forks have a solid forged steel head to provide a long working life.
The insulated shaft is manufactured using a solid fibreglass core which is coated with an abrasive resistant orange polymer coating and features a YD handle and integrated safety hand stop for added protection.
315mm x 250mm x 711mm fibreglass D handle.

Manufactured and individually certified to BS8020 standard.

---
More from this collection