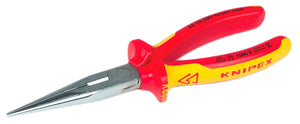 Knipex Insulated Long Nose Pliers
400-3100
Regular price
$97.30
excluding GST
including GST
Knipex Insulated Long Nose Pliers - 200mm
200mm Knipex Longnose Pliers - Insulated
Needle nose pliers (stork beak pliers) for assembly, alignment, and gripping work, especially in the electrical trade.
Very long pointed, flat rounded jaws.
Cutting edges with bite type cut for soft, medium-hard, and hard wire; cutting capacity for 3.2mm medium-hard wire, cutting capacity for 2.2mm hard wire.
Forged from vanadium electric steel and oil-hardened; cutting edges additionally induction hardened to approx. 61 HRC for exceptionally high cutting force.
Pliers are chrome plated.
Insulated with multi-component grips.

 
Made in Germany
---
More from this collection