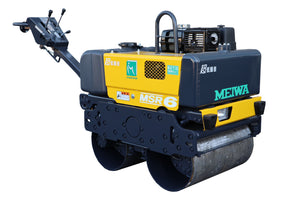 MSR6KM - 642kg MEIWA Vibrating Roller
Please contact us to learn more about this product.
MADE IN JAPAN
MSR6KM (Diesel)
This quality Japanese Twin-Drum Roller has the reliable Kubota water-cooled, diesel powered engine. The hydrostatic hand-controlled drive ensures easy operation of smooth starting, stopping along with easy vibration control, reducing operator fatigue.
Specifications:
Kubota EA3200-E2 Diesel Engine

(Petrol Honda GX390 Engine also available)

Weight 642kg.

Roller Width 635mm

Travelling Speed 0-3.5km

Vibration Frequency 55.0Hz (3300vpm).

Centrifugal Force 13.7Kn (1400kgf).

4.8L Fuel Tank.

Built in Water Tank 42L

Made in Japan.