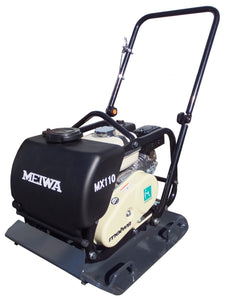 MX110 - 111kg MEIWA Plate Compactor
MX110
Regular price
$4,904.00
excluding GST
including GST
MADE IN JAPAN
MX110
A high end walk-behind plate compactor used in multiple applications. Including Asphalt, soil, sand & metal. Commonly used in preparation of pathways, paving, driveways, drainage, landscaping, plus more.
Complete with a water tank, recommended for Asphalt compaction. The water acts as a barrier between the hot asphalt and cold compaction plate, removing the risk that the plate will adhere to the asphalt.
Specifications:
Honda GX160 Engine

Weight 111kg.

Plate Size 595 x 550mm.

Travelling Speed 22-25 m/min.

Vibration Frequency 93.0Hz (5600vpm).

Centrifugal Force 19.6Kn

3.1L Fuel Tank.

Made in Japan.
---
More from this collection