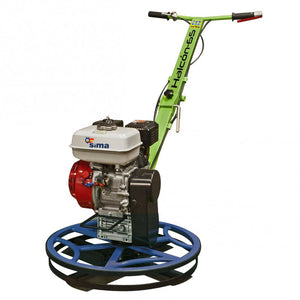 SIMA Halcon 65 Power Float
SIM.HALCON65
Regular price
$4,448.33
excluding GST
including GST
HALCON 65 Power Trowel Float
The perfect finisher for smaller concrete surfaces and edges on larger pads.
Power Trowel / Float SIMA Halcon 65 with rotating guard ring.
Diameter: 24"/60cm
Motor: Honda Petrol GX160 5Hp.
Weight: 62kg
RPM: 130
Chromium plated centrifugal clutch, ensuring the highest performance at high, medium and low engine revs.
Emergency stop system (dead-man release handle") in accordance with EC safety regulations.
The protection ring is fully chromium plated and mounted on silent blocks. This contributes to smooth operation and easy cleaning and dry concrete riddance.
Note: Extra Freight may occur on larger items to some parts of the country
---
More from this collection