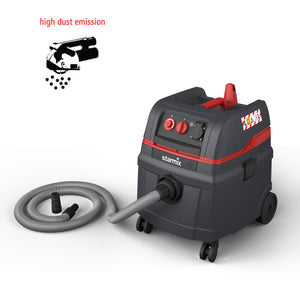 Starmix Wet & Dry Vac 25L
400-160
Regular price
$1,754.14
excluding GST
including GST
Starmix L Class Vacuum ISC-1425 (25L)

Whether it's for hard use in the workshop or on the building site, the IS Compact offers you tried-and-trusted technology and quality in a new design. The IS-Compact combines high performance with clear, modern housing design and improved ergonomics. The compact shape makes it easier to handle and move, while the low centre of gravity makes the vacuum cleaner very stable. Despite its small dimensions, the capacity remains unchanged.
Specs:
Dust Class: L-Class
Power consumption (Max.): 1400 Watt
Volume Air Flow (Max.): motor-head measure 64 l/s
Volume Flow (Max.): hose end measure 42 l/s
Vacuum Suction (Max.): motor-head measure 259 mbar
Vacuum (Max.): hose end measure 230 mbar
Container Volume (Max.): Gross/Dust/Water 25/20/15L
Sound pressure level: 69.0 db(A)
Dimensions L/W/H: 43 x 39 x 49 cm
Weight: 12.7 kg
Power cable length: 8m
Reach: 13 m
Other Features:

Tried and Trusted Filter system - Two separate, extremely strong folded filter cartridges with 2 x 4300 cm2 = 8600 cm2 filter surface
Perfect filter position, parallel to the motor axis
Optimized filter material for best-of-class dedusting
Perfect fold for perfect cleaning results
Extremely high level of dust absorption and long filter life = best vacuuming results, extremely cost-effective
Solid Canister
Impact-resistant, extremely strong special plastic containers with 25l, 35l and 50l volumes
With unbeatable capacity
Double-wall construction with flat inside walls - easy to empty
Large, stable rollers and wheels
Can also be used with paper- and special PE-bags = durable, almost indestructible, can be used for a variety of applications
L Class: 1.0% Dusts with maximum allowable concentrations (MAC) > 1 mg/m
M-Class Dust Bags available.
---
More from this collection